Walmart and Sam's Club Associates Support CMN Hospitals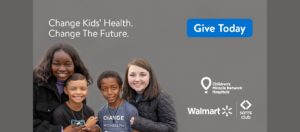 The Walmart and Sam's Club campaign benefitting Children's Hospital of Georgia is going strong.  Associates at locations across the Augusta and Savannah Area are once again positively impacting kids' health in our community by coming together to enthusiastically support this year's campaign.
Children's hospitals are on the frontlines when it comes to protecting the health of future generations.  But they can't do it alone.  Since 1987, Walmart and Sam's Club have partnered with CMN Hospitals to raise more than $1 billion for local children's hospitals across the U.S. and Canada.
Walmart and Sam's Club associates across the country are rallying behind the CMN Hospitals campaign, now in its 34th year, to ensure kids and their families are supported during the most critical time in their lives.  With 62 children entering a CMN Hospital every minute, and 10 million annually, the need for adequate healthcare is as important now as it has ever been.
Customers and members have many options to support their local CMN Hospital this year, donations can be made at the register, while shopping at Walmart.com or through the Walmart app, at the grocery pick-up or by visiting helpkidslivehealthy.org.
No matter where you are, whether shopping in a store or club or online, you have the chance to change children's health by supporting Children's Hospital of Georgia through the Walmart and Sam's Club campaign.  Every dollar raised stays in our community to support local kids and families, creating the kind of ripple effects that will positively impact our community and our world for years to come.