Miracle Monday: Meet Cason!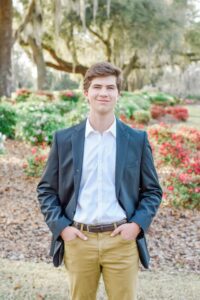 Meet Cason…
More than a year ago, 16-year-old Cason Roberts was getting out of the shower and noticed a small lump forming on his lower back near his ribs.  The swelling wasn't painful, but Cason, who is a member of the Lowndes High School tennis team in Valdosta, Georgia, knew something wasn't right.
"I just thought, 'Hmmm. This feels a little weird,' so I told my mom about it,'" Cason said. "She took me to see the doctor."
The Roberts family met with Dr. Charles Howell, the CEO of Augusta University Medical Associates, at the Medical College of Georgia's clinic in Valdosta. Howell, who earned his bachelor's degree from Valdosta State University and his medical degree from MCG, retired as surgeon-in-chief at the Children's Hospital of Georgia in 2018.  During his 40-year career at MCG and AU Health, Howell performed an estimated 16,000 pediatric procedures and operated on about 400 babies and children each year.
In fact, Howell operated on Cason when he was 2 years old after a hernia repair he received in Valdosta got infected with staph and the family traveled to Children's in Augusta for treatment. "We knew Dr. Howell from our hometown of Valdosta and he took such great care of Cason when he was a toddler. I mean, Cason was so sick, and Dr. Howell was incredible," said Rachel Roberts, Cason's mother. "So, when we discovered this mass, we contacted Dr. Howell again. After meeting with us at the clinic in Valdosta, he put us in touch with the doctors at the Children's Hospital of Georgia."
While the family was concerned, Rachel Roberts said they knew Cason would be in good hands in Augusta.  On Feb. 25, 2020, Cason had surgery at Children's to remove the mass from his back.  A few weeks later, the Roberts family got the call they were hoping to never receive.
Cason had soft tissue sarcoma, a rare type of cancer that begins in the tissues that connect, support and surround other body structures. There are more than 50 subtypes of soft tissue sarcoma that exist, and Cason had a rare type of the cancer.
Cason went through 14 rounds of inpatient chemotherapy and radiation treatments at Children's Hospital of Georgia.
Today, Cason is in remission and doing well.  He is a senior this year and looking forward to his high school graduation.