Join us for Extra Life Game Day November 2nd!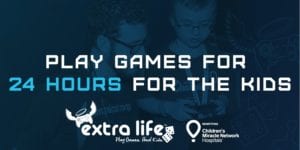 Since 2008, Gamers involved in Extra Life have been playing games and healing kids treated at Children's Hospital of Georgia. Last year alone, 127 Extra Lifers playing for Children's Hospital of Georgia raised $13,715 for the kids!
On November 2nd, Extra Life, a Children's Miracle Network Hospitals fundraising program, is hosting their annual 24-hour Game Day broadcast and we want to share how  can get involved:
Register to Play games, Heal kids at extra-life.org/register
Select Children's Hospital of Georgia as the hospital you are supporting.
Pledge to play games and ask your friends and family to donate.
You can play whatever game(s) you like for however long you want on whatever console, platform or place.
Not a gamer but still want to help? Donate to a participant's page or share about the event on your social media channels.
To learn more, visit extra-life.org and follow them on social media on Twitter.com/ExtraLife4kids, Facebook.com/ExtraLife4Kids, Instagram.com/ExtraLife4Kids.
Extra Life unites thousands of gamers around the world to play games in support of their local Children's Miracle Network Hospital. Since its inception in 2008, Extra Life has raised more than $50 million for sick and injured kids. Sign up today and dedicate a day of play for kids in your community!