Vote for Miracles Update Week 1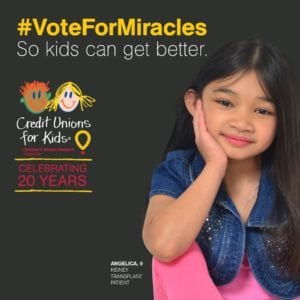 One week into Vote for Miracles and already there have been more than 160,000 votes cast for 140 hospitals…and counting.
Currently, Mercy Children's Hospital in Toledo, OH, holds the top spot, followed by Hurley Children's Hospital, El Paso Children's Hospital Foundation, Palmetto Health Children's Hospital and Children's Hospital of Georgia.
ELGA Credit Union, Dort Federal Credit Union, Health Center Credit Union, Palmetto Health Credit Union and Financial Plus Credit Union are the leading credit unions generating the most votes for their local CMN Hospital.
When you visit VoteforMiracles.org and cast a vote for your local CMN Hospital, you are helping that hospital increase its chances of winning $50,000 from CO-OP Financial Services and CU Direct. Remember, you can vote every day until Dec. 19.