Month of Miracles
During the month of October, departments across the Augusta University system are participating in the third annual Month of Miracles (previously referred to as May is for Miracles). This month-long celebration was designed to generate awareness for our Children's Miracle Network partnership as well as raise funds for Children's Hospital of Georgia.  
All departments participating in this campaign began with 50 paper Children's Miracle Network Icon Balloons. To receive additional balloons, departments will be selling balloons within their departments and also to friends and family, each for $1. Using these icon balloons, departments will make creative displays—so the more balloons they sell, the more elaborate they can make their display.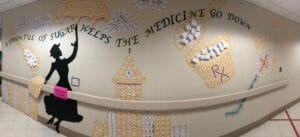 Because of COVID-19, and our desire to keep this fun activity safe and socially distanced, judging will take place via Children's Hospital of Georgia's social media channels. Winners will be announced on Monday, November 6. All funds for Month of Miracles will benefit Children's Hospital of Georgia, your local Children's Miracle Network Hospital.