IHOP National Pancake Day is February 25! Eat pancakes, help kids, here's how:
Visit participating IHOP locations on February 25 to celebrate IHOP's National Pancake Day and help kids treated at Children's Hospital of Georgia.
It's easy to celebrate IHOP National Pancake Day! Here's how:
Visit a participating IHOP location on February 25 and donate to your local Children's Miracle Network Hospital in exchange for a free short stack of pancakes.
Invite your friends and family to join you and share that you're supporting your local children's hospital on social media using #NationalPancakeDay
You might think it's just a day to get a free short stack of delicious IHOP buttermilk pancakes, but it actually is a day that makes a BIG difference for kids treated at our hospital. Kids like Cooper.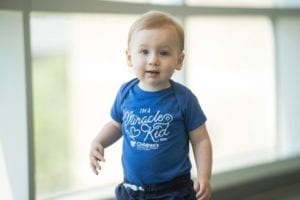 At just a few days old, Cooper's parents learned his aorta, the body's largest artery, was so narrow that hardly any blood was passing through. This meant his major organs weren't getting oxygen. Children's Hospital of Georgia created a plan to get his tiny, 6-plus-pound body strong enough to withstand surgery to repair his aorta. Cooper should never need surgery again, although he still goes back for regular follow-ups. "He's the happiest little baby," said mom Alicia. "He's always smiling. He's just a normal child at this point who just happened to have heart surgery."
Why you should help?
Did you know that 62 kids enter a Children's Miracle Network Hospital every minute? That's more than 10 million kids every year. Donations raised at IHOP on National Pancake Day help fund critical treatments and healthcare services, pediatric medical equipment and charitable care.
To thank you for helping kids on National Pancake Day, guests can enter to win pancakes for life or 250,000 other prizes by scanning the QR code on the table tent on February 25.
Thanks to IHOP for supporting our hospital and to all of you for enjoying free pancakes and helping kids!
Visit any of the following IHOP locations on February 25 and make a donation to Children's Hospital of Georgia:
3125 Peach Orchard Rd, Augusta, GA
4361 Washington Rd, Evans, GA
1248 Knox Ave, North Augusta, SC
180 Aiken Mall Drive, Aiken, SC
800 US Hwy 80 E, Statesboro, GA
1800 E Victory Drive, Savannah, GA
4 Gateway Blvd E, Savannah, GA
421 Pooler Parkway, Pooler, GA
808 W Oglethorpe Hwy, Hinesville, GA