Celebrating a Successful Extra Life Game Day!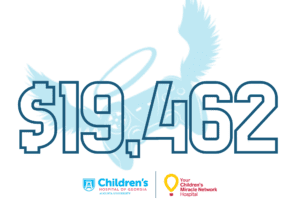 Extra Life's 2020 Game Day was on Saturday, November 7. Because of the hard work of the Extra Life community, $19,462 has been raised to help heal kids right here in Augusta. We thank our Extra Life participants for their commitment to Children's Hospital of Georgia, your local Children's Miracle Network Hospital.
Extra Life, a fundraising program of Children's Miracle Network Hospitals, leverages the passion of the gaming community to rally support for their 170 member hospitals, including Children's Hospital of Georgia. Participants fundraise year-round and pledge a day of gaming with one goal: to save and improve the lives of sick and injured kids. Since 2008, Extra Life has raised more than $80 million for member hospitals.
Although this year was very different for our Extra Lifers, we were blown away by the creative ways they activated during Game Day. We saw an overwhelming increase in virtual gaming, from video games to board games and everything in between. More gamers than ever before utilized Twitch to stream their game days, sharing with followers in real time why donations are so important. And one of the most exciting additions this year were our Game Day Zoom calls, which allowed our Extra Lifer's to connect with local Miracle Kids in a way they never have been able to before.
Game Day may be over, but there is still time to make an even bigger impact. Will you help us reach $20,000 before 2020 ends? Sign up today.