Visit Publix to support the Children's Hospital of Georgia!
Did you know you can visit any Publix in the Augusta and Savannah area and support the Children's Hospital of Georgia? From now until June 14, your donation can help kids like Lucas.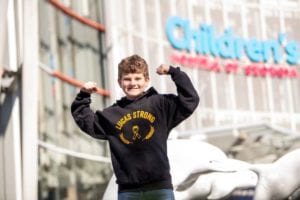 Lucas' mom began to worry when her then 6-year-old was sleeping all the time and had a constant fever. After a visit to the ER, she heard the words no parent wants to hear: cancer. Lucas was diagnosed with B-cell acute lymphoblastic leukemia. With the help of his family, he began his treatment journey. Now 10 years old, Lucas has remained cancer free. He loves watching any Marvel movie and playing on his Xbox.
Visit Publix between June 3 and June 14 to support your local Children's Miracle Network Hospital. In return for your donation, you'll receive a coupon for $21 in savings, redeemable through July 15.
Together, we can change kids health. Thank you in advance for your support!