Miracle Monday: Meet Sean!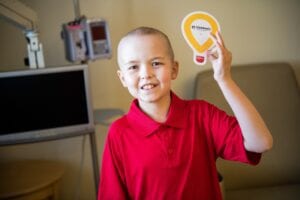 In 2015, Sean started complaining of stomach issues. Mornings became a routine of throwing up. "We went to countless doctors," said Tonya, traveling from their tiny hometown community of Eatonton, Georgia. The focus was always on Sean's abdomen, and no one could find the source.
By fall 2017, the family was referred to the Children's Hospital of Georgia. While they were waiting for results, Sean complained about his shoulder hurting and, "Mama, it hurts to swallow." The local ER referred them to an orthopedist. But that same week, while Tonya, a real estate agent, was finishing up showing a property, Sean alongside her, he suddenly said, "Mama, I'm going to be sick." Then, "Mama, I can't breathe."
"I was trying to get him to the hospital and his eyes were rolling back and he was broken out in a sweat, and he couldn't feel his hands. He said, 'Tell Daddy I love him,'" said Tonya, her voice breaking at the words. "I said, 'Stop talking, save your breath.'"
When she arrived at the local ER, Tonya ran inside cradling her son. Doctors noticed his white cell counts were high and suspected a urinary tract infection. But Tonya knew that couldn't be it.
The family returned to the Children's Hospital of Georgia, where in tears, Tonya told Dr. Rebecca Yang, a pediatrician at the Children's Hospital of Georgia, "Please listen to me, there's something wrong, right here," pointing to Sean's chest.  She remembers Dr. Yang responding "in the sweetest and most reassuring voice, 'Of course, mama, no one knows your baby like you do.'  Then came the breakthrough: X-rays found a large mass, crowding in on Sean's heart and turning his airway to a tiny pinhole.
Sean was just days away from his airway being closed off.  He went immediately to the Pediatric Intensive Care Unit (PICU), a team of physicians wheeling him carefully the entire way to ensure the mass didn't shift and cut off his air. Steroids helped shrink the mass, then the diagnosis came back: Stage 3 lymphoblastic lymphoma.
DJ said, "I just put my head down on the table. We were devastated."  But at the same time, there was reassurance. The vague symptoms finally had a name, and there was a protocol as well as a nationwide clinical trial available to treat it.
During Sean's treatment protocol, there were setbacks, including a month-long hospitalization due to a fungus invading his body, no match for his fragile immune system. At one point, Sean's platelets stopped recovering from chemotherapy.
Despite all of the obstacles, just a few weeks ago Sean received the wonderful news that his counts were great and he would not have to continue infusions!  Sean will continue to visit the Children's Hospital of Georgia for checkups but for now he is looking forward to having a great summer!