Miracle Monday: Meet Charles!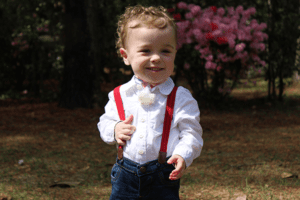 Meet Charles…
When Deanna Gilmer heard one of her twin sons might have developed a congenital condition, her initial reaction was shock and concern for what the diagnosis could mean.
During her 10-week sonogram, it was suspected that baby Charles had a hole or defect in the abdominal wall. Called an omphalocele, this opening allows the bowel, liver or other abdominal organs to protrude into the abdomen near the base of the umbilical cord. As a baby develops, the intestines get longer and push out from the belly into the umbilical cord. By the 11th week of pregnancy, the intestines normally pull back inside. But not always. The condition was confirmed at 12 weeks.
The Gilmers, who live in Albany, Georgia, were sent to a maternal-fetal medicine specialist, who advised them to seek a hospital with a pediatric surgeon. They found Dr. Charles Howell, the surgeon-in-chief at Children's Hospital of Georgia, who travels to Albany each month to provide pediatric consultations and specialty care for children in this rural community.
"After meeting him, we knew CHOG was where we wanted to be," Gilmer said.
Charles and his twin brother Theodore were born July 17, 2019, via C-section. Theodore was healthy at birth, but Charles had issues. He has chronic lung disease, because the abdominal defect altered the shape of his lungs.
Today, he has a trach and requires ventilator support while he sleeps, but Charles has come a long way, according to his mom.
Read the full story here.