Celebrate Panda Cares Day with Panda Express on August 8 and help kids at Children's Hospital of Georgia!
Children's Hospital of Georgia is excited to celebrate Panda Cares Day on August 8. Why? Because Panda Express is hosting a one-day virtual fundraiser for area kids treated at Children's Hospital of Georgia. When a guest places an order on the Panda Express mobile app or website using the promo code "PandaCaresDay," Panda locations in the Augusta and Savannah area will donate 28 percent of online sales to young patients.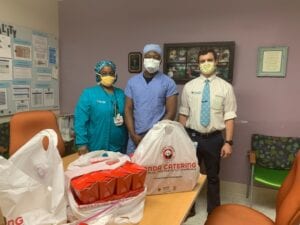 In 2019, the eight Panda Express locations that fundraise year-round for Children's raised $71,666. Most recently, the Panda Cares Foundation donated 19,920 personal protective masks to Children's for a total gift value of $18,787 The donation included KN95 particulate respirators and single-use surgical masks. We are so grateful for Panda Express customers and associates for these generous donations.
Don't forget to mark your calendars for Saturday, August 8th. Panda Cares Day means that every online order of your favorite Panda Express meal helps change kids' health and change the future – for all of us.