Broadcasting Hope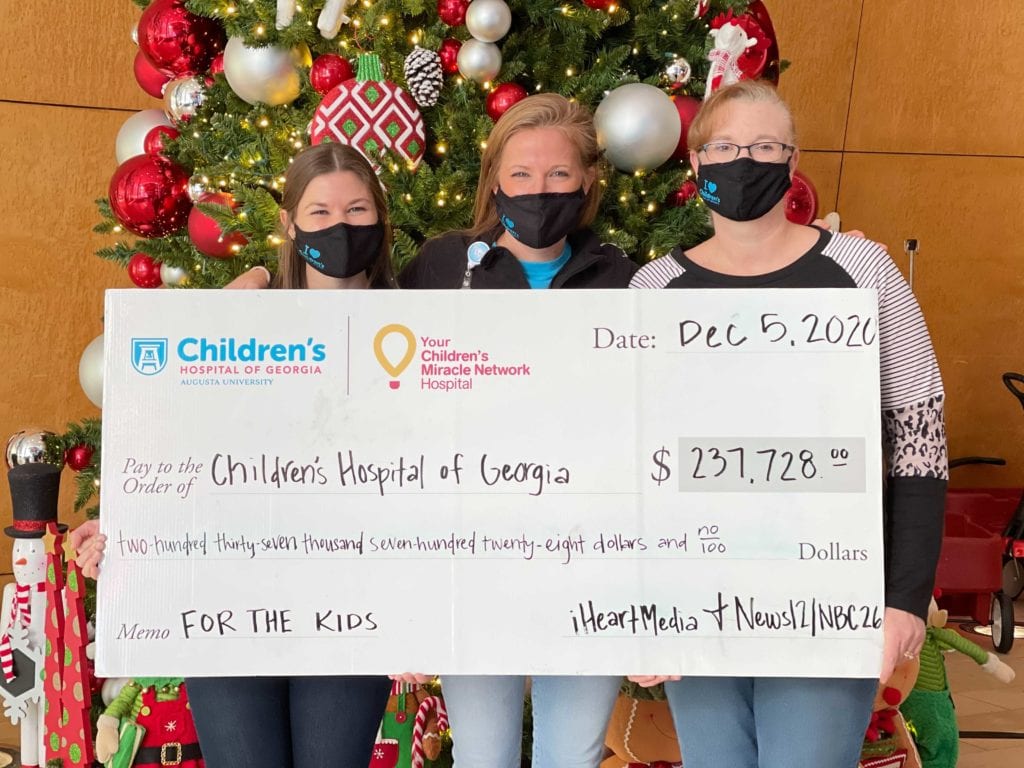 From December 3-5, many of Augusta's favorite local TV and radio personalities, with the help of volunteers, patients, families and staff, celebrated (virtually) the 20th Annual iHeartMedia Cares for Kids Radiothon. In partnership with Augusta radio stations 104.3 WBBQ, 105.7 The Bull and 96.3 Kiss-FM, as well as TV station News 12 NBC 26, Children's Hospital of Georgia used the radiothon to highlight its extraordinary patients and the skilled physicians and nurses who care for them, all while raising money to enhance programs and services. Like everything in 2020, things were very different this year, but it did not stop the community from coming together to celebrate the areas only hospital dedicated to kids. The 2020 radiothon raised $238,968 to support programs and services at Children's Hospital of Georgia. 
"Children's Hospital of Georgia truly relies on community support to purchase equipment, including stretchers and beds for premature babies and things that make the hospital fun for patients such as playrooms, playgrounds and our two full-time facility dogs," said Catherine Stewart, associate director of philanthropy for Children's Hospital of Georgia. "We couldn't provide those things without the support we receive during the radiothon. I love that the community wholeheartedly embraces it. It's neat to see people from so many walks of life come together each December to donate time and money. Especially this year, when things have been so very different, one thing stayed the same— this community rallied to support Children's."
Generosity in action
Months of planning for the radiothon came down to three days in early December, when radio and TV hosts spent more than 30 hours promoting Children's Hospital of Georgia and highlighting the hospital's need for support on air and social media. Each hour on the radio, listeners learned about a specific item on the hospital's wish list, enjoyed interviews (that were pre-recorded virtually) and heard stories about young patients and their families. Giving was easy. Listeners and viewers could make a gift by calling the volunteer manned phone bank, visiting the online donation page or texting to give. 
The radiothon would not have been possible without approximately 150 volunteers, many of whom spent two-hour shifts in teams of up to 10 people taking pledges by phone, socially distanced of course.  Many volunteers come back year after year to help with this event. They love to hear the stories of our patients. Those patients included Noah, who was born with a serious heart condition.  His mom was referred to a pediatric cardiologist before Noah was born. Noah's Mom says that, "CHOG will always hold a special place in her heart." Sisters Abbey and Hailey from Savannah, GA also shared their story during the radiothon.  Abbey was diagnosed with Type I Diabetes at 21 months old, and her younger sister Hailey was diagnosed at eight years old. Both girls travel to Children's Hospital of Georgia for their care.  They are able to manage their diabetes with regular appointments thanks to the doctors and clinicians that see them. Many other stories of hope were shared over the course of the 3 day event. 
"We asked every donor why they chose to give, and it was so interesting and humbling to hear their reasons," Stewart said. "Often they said they'd been blessed with healthy children or grandchildren and wanted to help children who were dealing with illness or injury."
A legacy of good
"We want to recruit the best physicians to Children's Hospital of Georgia, make the hospital a less scary place for children by providing services like Child Life and our facility dogs, and conduct research so that maybe one day there will be no such thing as childhood cancer," Stewart said. "The radiothon and other fundraisers make those things possible. I'm so grateful to our community for tuning into the radiothon and stepping up to help for 20 years." We will be back next year, so be sure and tune in December 2-4, 2021.